Every year we, at Lumens try to make summer holidays interesting and fun filled for children. This year we have not only got a new concept for summer camp but are also introducing sports camp for the children of Vapi. It is a great opportunity for your child to have fun filled summer at LUMENS SUMMER CAMP and SPORTS SUMMER CAMP.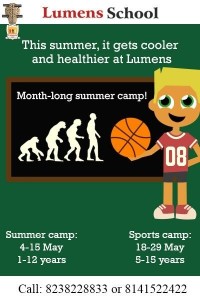 The focus of the summer camp is the evolution of plants and animals of our planet as theorised by Charles Darwin. Darwin set on the journey of the world and came up with the theory of how life on the planet earth evolved to present state, which also helps us to think what can possibly happen in future.
In this process the child will learn to use an atlas, make notes, appreciate the bases of nomenclature and biology, understand how postures of animals have been applied in yoga, be creative and make mask and puppets based on life forms.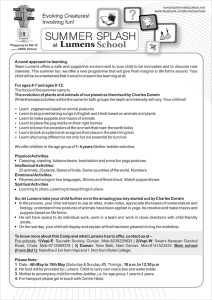 We all still remember, and some of us still get, that warm fuzzy feeling of opening a box with a shiny new pair of boots, or unwrapping the cover round a new tennis racket. With the days getting longer and the sun trying to burst through to dry up the rain we are… yes…. we are…getting close to the summer!
This summer Lumens also brings to you the best ever sports summer camp for children.